After going through some of my DMs, I realized a lot of you had questions on a few of the same items that happened to also fall under $50. I thought I would share those picks as well as a few other favorite finds under $50 with you all! From a cozy tie-dye set to my summer bracelets, I tried to select a variety of pieces you might be interested in. Only 1 item is slightly over the $50 mark (my fanny pack), but decided to share since it has been popular.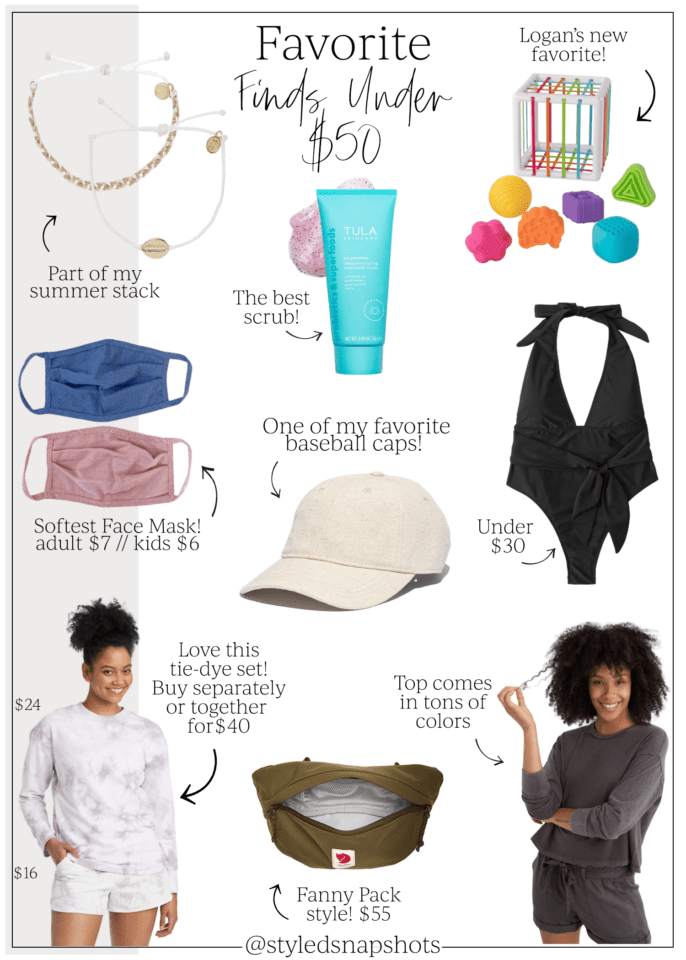 Stackable Bracelets– I have 3 of these I added to my summer stack! This one comes in several fun colors. They also have certain bracelets that give back to different charities!
Tula Blackhead Scrub – The best scrub, especially this time of year! You can use code: Kendall for an extra 15% off their site.
InnyBin– ($24 plus discount) Logan's new favorite toy that keeps him very entertained! They are the best and gave me a code to share with you all for 15% off 1 item. code: kendall.
Softest Face Masks– (adult $7 // kids $6) you all have been loving these masks, which makes me so happy! Super soft, machine washable, kid and adult sizes and so many colors. I have the mauve, tan, sky blue + olive.
Linen Baseball Hat– One of my favorite baseball caps for summer! Extra 40% off with code: GIANT
Halter One-Piece Suit – I love the belted swimsuit trend and this one is on major sale (under $30).
Tie Dye Top – Love this little set! Each sold separately, but collectively still falls just under $50.
Tie Dye Bottoms– Matching bottoms! Loving the tie dye trend.
Fanny Pack – Just over $50, but have had so many questions about this one! Comes in a bunch of colors as well.
Long Sleeve Cropped Shirt – Super comfy material and comes in a tons of colors!
The post Favorite Finds Under $50 appeared first on Styled Snapshots.