The past week(+) has been filled with so many emotions across the board. Matt and I have spent a great deal of time talking about everything going on in the world and how we can be doing so much more and start making changes. I have appreciated your ideas, thoughts and suggestions that you all have been sharing and wanted to get a blog post up with black-owned businesses to support.
I mentioned before that I wanted to make these small business appreciation posts a monthly thing and felt this one was perfect for June. So many great shops and if I missed any of your favorites, please let me know and I will add them to the list.
Hope you all are staying safe and well. xx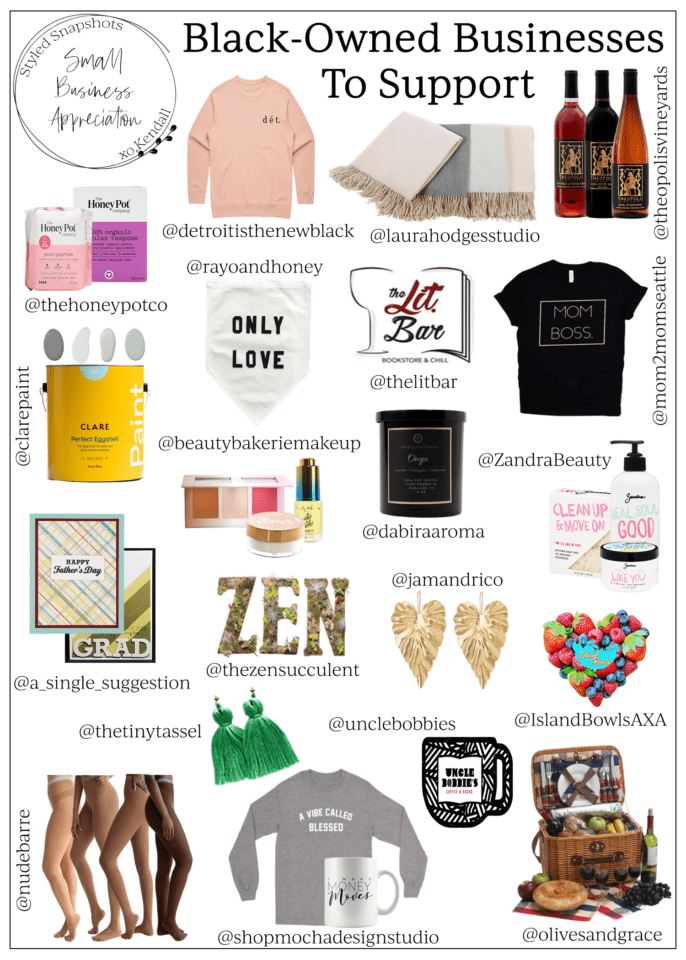 Détroit is the New Black– Founded by Roslyn Karamoko, She and her slogan have created a conversation in Detroit surrounding the pressing issues of underlying socioeconomic and racial issues and the need for revitalization. I loved the color and simple design of this sweatshirt.
Domain by Laura Hodges Studio– Laura Hodges owns a beautiful boutique design firm in the Baltimore/DC area. With an appreciation for travel and diverse culture, she's created a successful design business that has afforded her several features and awards. View her website gallery and IG feed for all your home decor inspo. You can also shop her online store for home decor items like these throws, bath&body, as well as jewelry.
Theopolis Vineyards– Founded in 2003, Theopolis Vineyards is a "small lot vineyard and hand-crafted winery". Owned by Ms. Theodora Lee who is a successful lawyer and developed a passion for wine after moving to San Francisco and was introduced to vineyards owned by fellow law partners. Outside of her career and vineyard she is highly involved with her community and various organizations. You can shop individual wines or join her wine club.
The Honey Pot Company– Founded by Bea Dixon, She created the first complete, plant-based feminine care system on the market. Her brand can be shopped directly from her website and found in local stores like Target and Walgreens. She also includes products for post-partum moma's.
Rayo & Honey– Owned by Roachele, she handcrafts "goods with positive intent" in Brooklyn, NY. She is clever with words and literature and ensures her practice is culturally conscious. You can shop her signs and bags with affirming phrases on her website.
The Lit. Bar– Independently owned bookstore who permanently opened in 2019 and is the only bookstore serving the "Boogie Down Bronx". Their curated selections "emphasize local interest and diversity for all ages." Their mission is "To create a haven that inspires reading, encourages healthy social interaction, highlights diverse voices, and increases intellectual visibility in the Bronx."
Mom 2 Mom– Founded by Britani Rose, a resilient woman who became a teenage mother at the age of 17. She created Mom2Mom as her own version of what she needed as a young mother to share with others and be a resource. They offer resources, mom apparel, life coaching and support. Their mission is "Support & empowerment from one mom to another."
Clare– Nicole Giboons is an interior designer who created Clare paint to offer people a convenient way to shop for paint. She and her work have been featured in top media outlets and continues to help people create beautiful spaces.
Beauty Bakerie– The founder of Beauty Bakerie has been an entrepreneur since the age of 9. She has a beautiful story of overcoming different obstacles as a young woman and her company is a way of sharing a "piece of her peace with the world." You can shop top items like this trio set, marula oil, and setting powder.
Dabira Aroma– Founded in 2019 by Shola (we met in the city through a blogging event, her blog is Our Perfect Pallette!), Dabira Aroma offers luxurious, toxin-free aromatic joy that is affordable for every budget. For each candle purchased, part of the proceeds are donated to a Nigerian children's orphanage.
Zandra Beauty– Plant based skincare that inspires & gives back: This 18 year old entrepreneur founded her company at just 9 years old, starting with lip gloss! Her packaging is bright + uplighting, just what we need during these times.
A Single Suggestion– Owner Erika Burnett creates handcrafted stationary. She states her business started because of "her love for creativity and her passion for making people feel special. You can shop cards and notes for all occasions and with all the grads and Father's Day around the corner now would be the perfect time to purchase a card and shop small.
The ZEN Succulent– Founded by Megan George, the Zen Succulent is a 100% minority women owned business. They offer modern terrariums and plant craft lines. You can shop their two neighborhood plant and gift shops in downtown Durham and Raleigh, NC. Megan has also published her own modern terrarium book and it can be found on amazon.
Jam + Rico– Created from the inspiration of Lisette's upbringing, Jam+Rico (Jamaica + Puerto Rico) brings the cultural connection of her ancestry to the jewelry pieces she designs. My best friend actually introduced me to her at a work dinner party a few years back and I have enjoyed watching her store blossom.
Island Bowls AXA– Anguilla's only Plant Based Restaurant. Their focus is simply to feed people with things that are good for them while making it delicious. *We actually met the owner of Island Bowls while in Anguilla. She also works for a photography company (KShap Media) who we hired to shoot our family photos. I got to chatting with her about social media and she stated telling me about her new adventure…Island Bowls AXA! If you ever visit, stop by or you can show some love on their Instagram and spread the word.
Nude Barre– Was founded by Erin Carpenter who had a hard time finding correctly colored nude undergarments to suit her skin tone while in the entertainment industry and sought to fill in that gap for other women of color. She now offers several items in a wide variety of shades to suit the needs of all women.
The Tiny Tassel– Founded by Mimi Striplin in the summer of 2015, the business features handmade, brightly colored tassel jewelry, accessories,& garments. Mimi is also the co-founder of the Charleston Balloon & Gift shop. Mocha Design Studio– Founded in 2016 after the owner left the corporate world and decided to create opportunities for herself. You can shop their products like pins, mugs, accessories and apparel directly through their website or Etsy shop.
Uncle Bobbie's Coffee & Books– An independently owned coffee and bookstore in Philly who feature "Cool People. Dope Books. Great Coffee." You can shop books, audio books and apparel through their website. You can currently donate to their go-fund me page to assist them amidst Covid-19.
Olives & Grace– Founded in 2012 by Sofi Madison, her business was voted "Best Gifts' in Boston. She "shines a light on the community and small businesses" by creating a space for emerging brands and entrepreneurs.
The post Small Business Appreciation: Black Owned Businesses To Support appeared first on Styled Snapshots.